About Gregory
Gregory has been a student in the After School program at Mychal's Learning Place for the past 7 years. The program has positively influenced Gregory's social skills making an impact in his life. Before Mychal's, Gregory had few social activities other than school. With the after-school program, his mother reports, "Gregory's personality bloomed!"
Leaps and Bounds with Musicals
Gregory told us, "My favorite activities are art, music, and performances, which I like to do at Mychal's Learning Place." Gregory's participation in the Musicals at Mychal's has been a huge impact on Gregory's life.
Past roles Gregory is most proud of include playing Genie in Aladdin and the Lion in the Wizard of Oz. He thoroughly enjoys the acting and singing, but most of all being a part of a group of actors!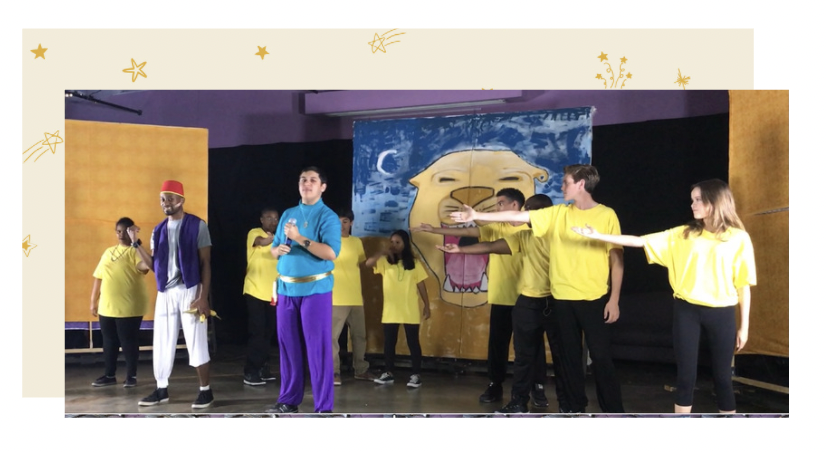 Friendships
Gregory didn't have a social network other than his classmates at High School. When he started at the after-school program, he now has a new group of friends. Gregory looks forward to being at the program and participating in the many activities.
"Mychal's Learning Place has been life-changing for my son and a magical place," said Gregory's mother. Having a safe place with caring staff is comforting to her.
Gregory's Future
Gregory will be finishing high school in one year. He currently is gaining some vocational skills via his high school program at local stores such as Ross and 99 cents store. After completing high school, he is looking forward to the Path to Independence program. There he will learn daily living and vocational skills. He hopes to continue gaining jobs skills and eventually being employed. Gregory shared, "I was born ready. My dream job is to be an anchorman on ABC7." The sky's the limit, Gregory!
Head to our Youtube Channel to watch the end of Gregory's amazing performance of "Over the Rainbow" from our 2021 Luncheon fundraiser!