Meet Juan: Reaching His Potential at Mychal's
Juan joined Mychal's Learning Place in 2010 and is currently in the Path to Independence Program. Juan's family and friends describe him as being fun, friendly, and always having a smile! He enjoys watching sports and playing video games. Juan's favorite sports teams are the Los Angeles Rams, Dodgers, and LA Galaxy. When playing video games on his Xbox, he likes chatting with his friends from Mychal's. Juan is also a huge fan of music! He loves listening to new music and singing along. "My favorite music artist is a Mexican band called Grupo Firme" said Juan. He also enjoys traveling with his family!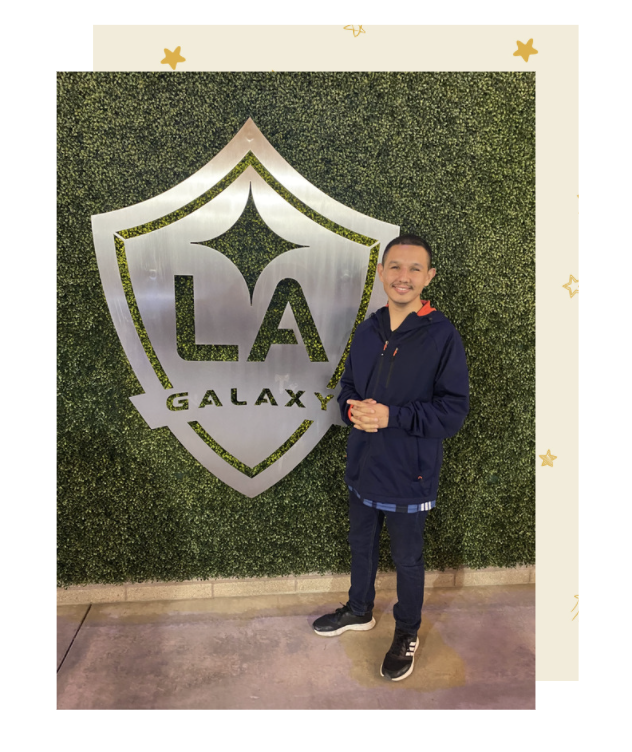 Having a Sense of Work Fulfillment
Juan loves coming to Mychal's and hanging out with his friends. He says his favorite thing to do is exercising with everyone in program. He is always eager to lend a helping hand, especially at Mychal's events!
Juan has become more independent these past few years. His responsibilities at Mychal's have transferred over to home and he has been more consistent with helping around the house and being more independent in daily activities. He has also become more social and outgoing with his friends from Mychal's.
Currently, Juan is working at 
Mychal's Printing and Embroidery
 shop. "I am so happy to work with Jose at the Print Shop," says Juan. Juan is responsible for adding the images to t-shirts at the print shop. He began working there in October of 2021. He always has a smile on his face showing his pride and joy as he works.
Juan's Future Dreams
Juan hopes to be able to have a job where he can put his skills and great personality to use! He would like to continue building lasting friendships and wishes to be able to live independently.