See What Corporate Partnerships Mean To Our Students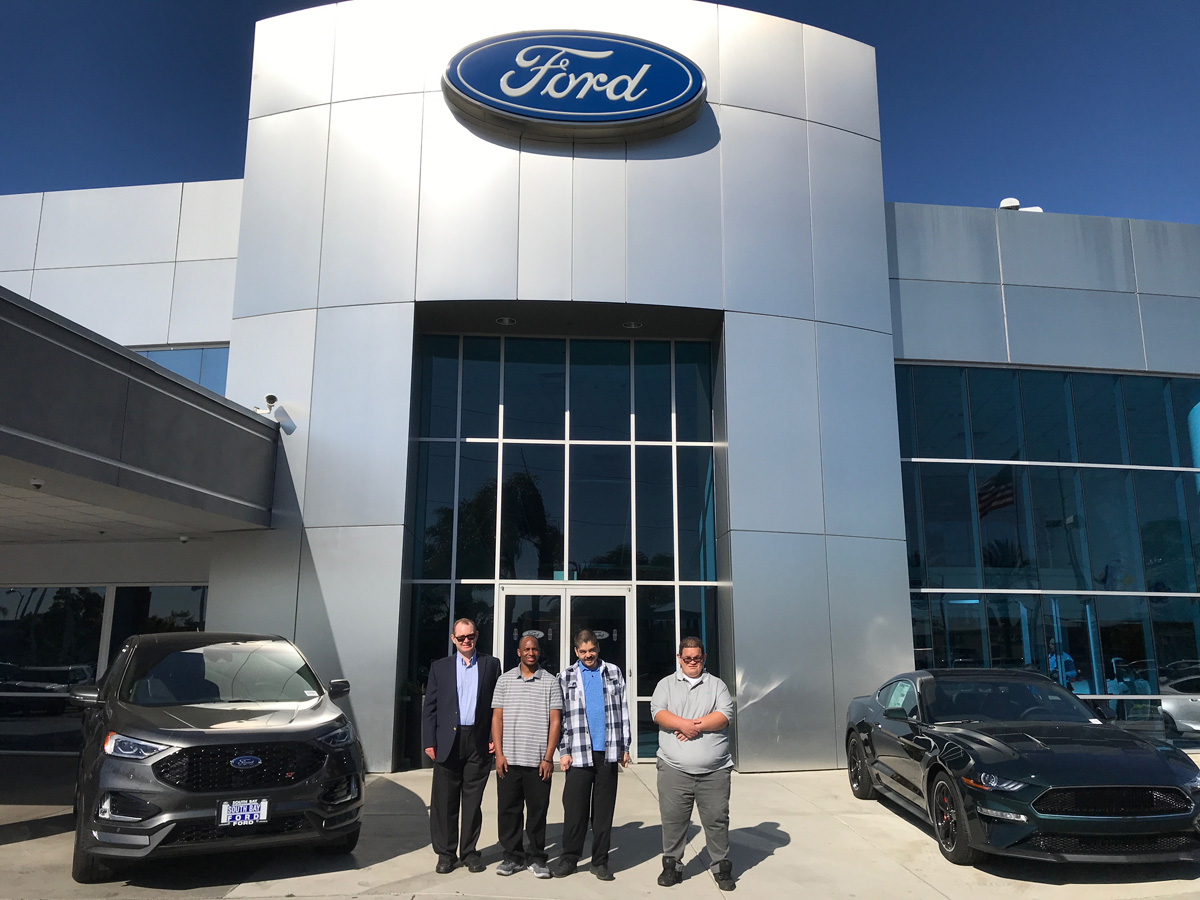 How It Started
Angel joined our Path to Independence program in April of 2015. New to our Mychal's family, the staff did not know what to expect upon first meeting Angel. But just like any other individual coming through our doors, our staff, students, and volunteers gave Angel a warm welcome. What we quickly learned was that Angel is the definition of a gentle soul. Most people would describe him as intelligent, kind, soft spoken, and always polite. What we also found was that Angel had a deep appreciation for cars, particularly Ford Mustangs. Coupled with his attention to detail, Angel seemed like a perfect fit for job training with our newest job partner, South Bay Ford.
Vocational Training Turned Into Dream Employment
While Angel performed job training at various job sites prior to the pandemic, none brought him as much joy as South Bay Ford. Angel's hard work did not go unnoticed as he was extended an offer to join the South Bay Ford team. The week the COVID-19 pandemic shut down our program doors, Angel was scheduled to begin his paid internship with South Bay Ford.
Angel has since transitioned to Mychal's Path To Independence online virtual programming. While Angel enjoys participating virtually, there has not been a week that has gone by without Angel mentioning how much he misses and is looking forward to returning to South Bay Ford.
The team at South Bay Ford misses Angel as well. When asked, Shelly Fong, Director of Marketing, had this to say about Angel, "He was a delight to have at South Bay Ford, when I would look at all of our interns' work, I could always tell which one was Angel's. His love of cars, especially the Mustang, and his attention to detail really shined through. We can't wait to welcome him back."
Creating Opportunities To Lessen The Unemployment Rate For Individuals With Developmental Disabilities
Creating opportunities for on-the-job training and employment is a key objective in creating a world of acceptance for our students. This Autism Acceptance Month we hope you'll join us in spreading the word and encouraging more businesses to open their offices to people with developmental disabilities just like South Bay Ford and many of our other corporate partners have.