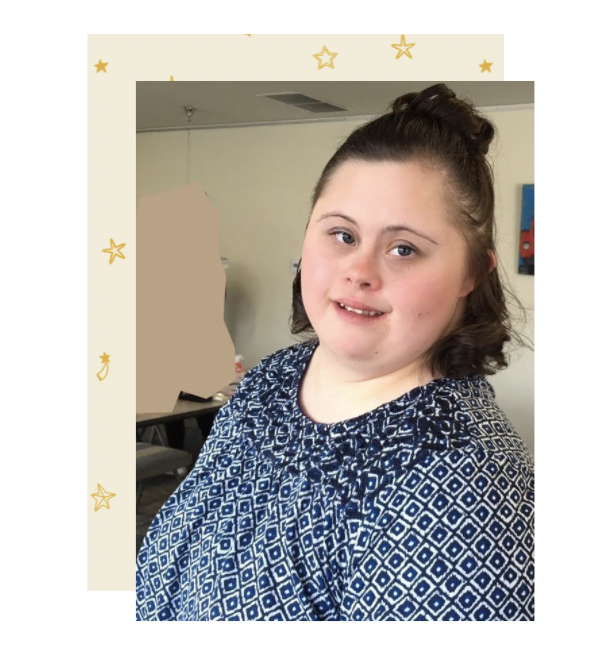 All About Brooke: Gaining Self-Worth through Employment
Brooke is a loving, passionate and funny young lady. She is pretty competent in judging others' character and always wants to do the right thing. She loves Disney, sing alongs, journaling, shopping and traveling. Brooke does well with following instructions, using technology, office work and completing assigned tasks. After finishing high school, her parents searched for a place where she could continue to build her vocational and independent living skills. After an exhaustive search, they found the perfect fit meeting her needs with the Path to Independence Adult Day Program at Mychal's Learning Place.
Brooke's Growth at Mychal's
Brooke started at Mychal's in 2014. Her parents saw immediate positive results at home after the first week in her day program. She independently began to clean her room, the dishes in the kitchen and wash her clothes. You could feel Brooke's self-pride and confidence in her accomplishments. To this day, Brooke always cleans her dishes, bedroom and clothes.
Additionally, Brooke has gained vocational skills at partnering companies such as DoggieLawn, VITAS, Centinela Feed & Pet Supplies, Rock & Brews, and Kinecta Federal Credit Union. In 2019, Brooke interviewed and was hired at Kinecta Federal Credit Union in the data group back office. On her first day of work, she came home beaming with delight. She is a valued member at Kinecta and is so proud of her work there. Though the Covid-19 pandemic has suspended her work, she continues to connect with her manager and co-workers once a month and is eager to return and receive her paycheck!
Brooke's successes not only comes from her own inner drive for excellence, but through the support of the partnering companies and Mychal's Learning Place staff members. The strong bond and trust she has with the adult day program staff is so meaningful to her.
Looking into the Future
Just like any person, Brooke's dreams and goals for her future include living in a space where she can have her own office set up exactly how she would like it, a job she enjoys and in a place that feels like home.