All About Josh
Joshua is a kind individual who always has a positive attitude and smile on his face! He loves to help and be around people. His outgoing personality radiates as soon as he enters a room. Joshua enjoys being active; he likes to swim and workout in the gym during his free time.
Passionate About Printing
Mychal's has been lucky to have Joshua in the Path to Independence Adult Day Program for about 8 years.  During his time in the program, Joshua has learned a lot and shown great strides in becoming more independent. His mother, Melida, actually helped get our Mychal's Print & Embroidery social enterprise started by donating $5,000 for our first printer!  Jose, Mychal's Print & Embroidery Project Manager, says "I've been working with Josh for about 7 years now and I can say that both his focus and behavior has improved tremendously. Josh can be assigned to a task now and he will work on that task until it's completed. Going back 7 years, it would take Josh numerous hands-on demonstrations and verbal prompts to complete tasks and to stay focused."
For nearly 4 years, Josh has been job training in the print shop, steadily increasing the various tasks and skills he's mastered. One task he has been working on for a while now, is the ability to attach our Mychal's Print & Embroidery tags on shirts, sweatshirts, hats, etc.  This was a task that required focus and patience. After working diligently on his fine motor skills with Jose and the support staff at Mychal's, he was finally able to punch his first tag! As you can imagine, Joshua was incredibly excited and proud of his new accomplishment.
Before learning how  to punch tags, Josh waited for a staff member to give him instructions for the day. Now that Josh knows how to punch tags independently, he's built self-confidence. Josh now walks in every morning motivated & energized. The first thing he says is, "I can punch tags!"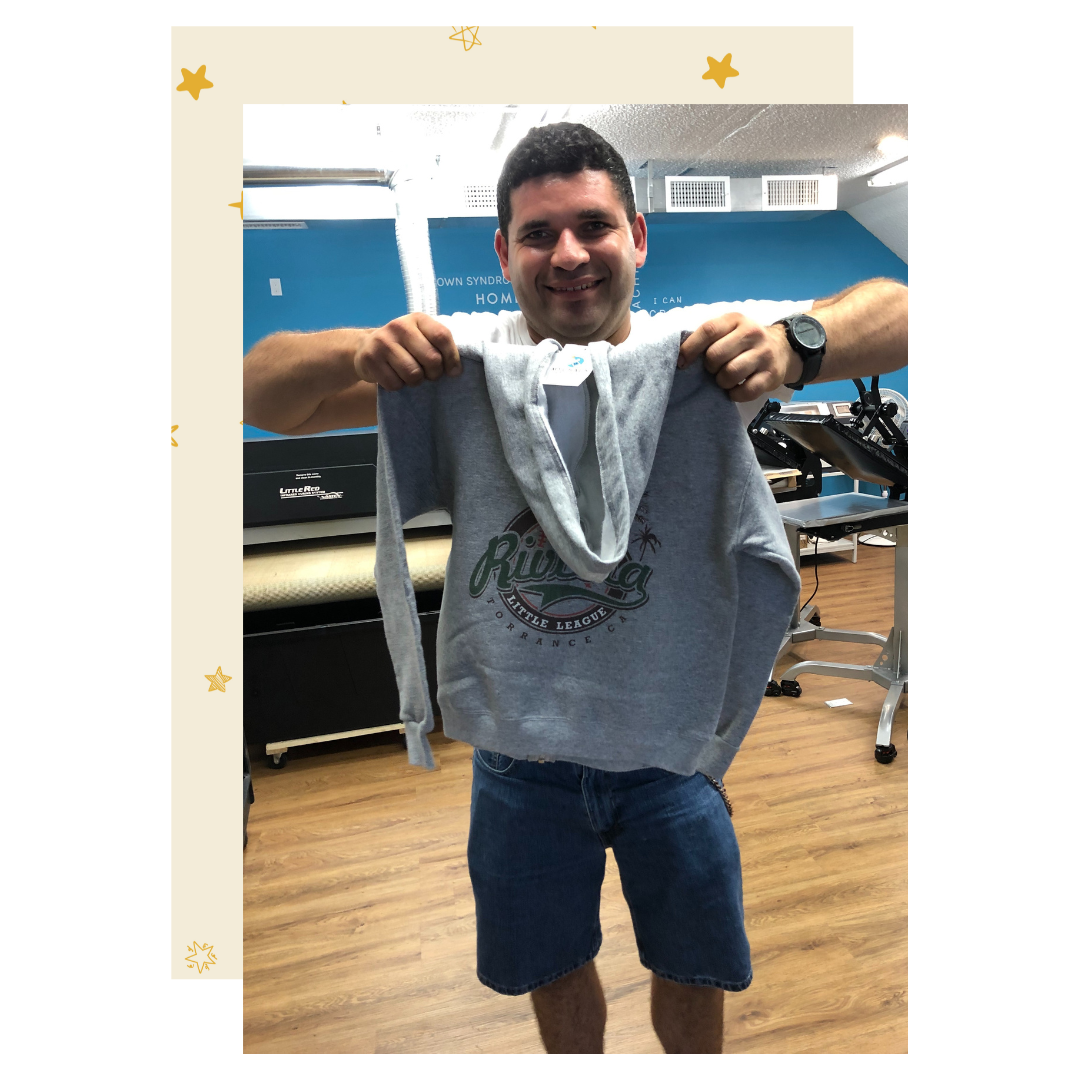 Reaching for the Stars
Joshua is excited to continue developing new skills. He hopes to one day be employed at Mychal's Print & Embroidery. He explains, "When I go to Mychal's, I learn a lot. I like to print shirts and work in the print shop." We are so proud of Joshua and all his growth over the years, we have no doubt that he can continue to achieve – keep up the amazing work!